What cannot be shaken will remain. Hebrews 12: 28-29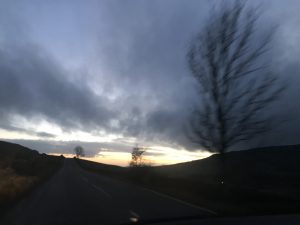 This is a sermon that was never preached but it was intended for an evensong on the 5th Sunday of Lent.   It happens sometimes. Does that make it an article rather than a sermon? I will leave you to decide.
'What cannot be shaken will remain'
This week the man considered to be perhaps the greatest scientist of the 21st century died. Professor Stephen Hawking continued to work up to his death, even to the point of submitting a research paper just two weeks before he left us; a paper in which he suggested how scientists could detect another universe and predict the end of the world.
Whilst its generally acknowledged that the universe may have started with a big bang, of course that hasn't always been the case. People have believed all sorts of things over the centuries; those beliefs have been challenged, sometimes with fearful consequences…
Galileo was one such person who challenged the thoughts of the day – that the sun moved around the earth; proposing instead that the earth travelled around the sun. His ideas shook not only the educated western world, but also the religious world and he brought down upon himself the wrath of the pope, and the Jesuits. He was tried by the inquisition, accused of heresy, and placed under house arrest for the rest of his life.
In the art world there have always been artists who have shaken the rarified world of the visual arts. Painters such as Rubens and the pre-raphaelites, were radical in their day and their vision and that of those who came after was subsequently overturned by the likes of Monet and Picasso which in turn have been shattered by Cindy Sherman, Damien Hurst, Louise Bourgeois, Nikki de St Phalle, and Tracy Emin to name just a few.
In politics, regimes rise like stars, only to be eclipsed by new ideas , some of which place man at the centre, others which have a more balanced focus.
And the natural world itself, is regularly shaken, torn apart, by extreme weather, earthquakes, on the grander scale; and by virus's, bacteria, on a microscopic level.
God set up the world in such a way as change was inevitable – and with change comes upheaval. We are called to live constantly with change… and that can shake us to the core.
Like a strong wind that blows dead leaves from the trees, God's way of being within the fabric of the world shakes and shakes everything that can be shaken in our lives…. For God knows better than we do that there is only one certainty, and that certainty is God. .
3 Do not put your trust in princes,
    in human beings, who cannot save.
4 When their spirit departs, they return to the ground;
    on that very day their plans come to nothing.
5 Blessed are those whose help is the God of Jacob,
    whose hope is in the Lord their God.
6 He is the Maker of heaven and earth,
    the sea, and everything in them—
    he remains faithful forever.
7 He upholds the cause of the oppressed
    and gives food to the hungry.
The Lord sets prisoners free,                           Psalm 143: 3-7
When God pulls us out of our comfort zones it means that we are being given an opportunity to go deeper into relationship. Sometimes the landscape is so barren that to find refreshment we have put our roots down very deep; other times we enjoy abundant rain, perhaps more often than not here in Manchester. Wherever we are in our lives, however difficult or empty they might seem, we are assured that God is there with us.
Of course God did not create the world in this way to give us a hard time, rather God builds into the world the necessity of and for change. When there is no change to stir us, we are to all intents and purposes, asleep.
Now you may not be a fan of the black hole theory, or of Tracy Emin and Damien Hirst, or even Picasso, but our safety doesn't lie in going back to days of Leonardo or Titian, or Copernicus. Our safety doesn't lie in in a world clean of bacteria or viruses. In fact, no such world could ever exist. Even Professor Stephen Hawkings, living with a life limiting and debilitating disease was once known to say that in any other universe that he could think up he wouldn't have existed as himself, therefore, he is happy with the way things are. He is of course, a scientist. As Christians we would put it slightly differently.
Our safety lies in God's promises,
"The steadfast love of the Lord never ceases, his mercies never come to an end. His mercy is new everyday."
Trusting in God gives us a freedom the like of which we can never have when we put all our trust in earthly things. Of course we need to be able to rely on those things day by day to some degree, but its only when we can truly say that we are not
receiving our affirmation, love, self-worth, joy, strength, or acceptance from any source other than God that we will experience true freedom. True freedom lies in love and love alone. And it is in the love of Christ that we find
God's unshakeable kingdom.
Therefore, since we are receiving a kingdom that cannot be shaken, let us be thankful, and so worship God acceptably with reverence and awe, for our "God is a consuming fire." (Hebrews 12:28-29 NRSV)