Remembrance Sunday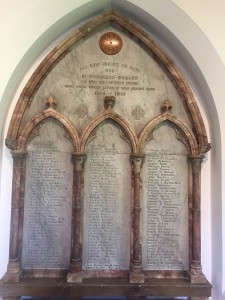 Words from Strange Meeting by Wilfrid Owen
It seemed that out of battle I escaped
Down some profound dull tunnel, long since scooped
Through granites which titanic wars had groined.
Yet also there encumbered sleepers groaned,
Too fast in thought or death to be bestirred.
Then, as I probed them, one sprang up, and stared
With piteous recognition in fixed eyes,
Lifting distressful hands, as if to bless.
And by his smile, I knew that sullen hall,—
By his dead smile I knew we stood in Hell…
"Strange friend," I said, "here is no cause to mourn."
"None," said that other, "save the undone years,
The hopelessness. Whatever hope is yours,
Was my life also; I went hunting wild
After the wildest beauty in the world,
Which lies not calm in eyes, or braided hair,
But mocks the steady running of the hour,
And if it grieves, grieves richlier than here.
For by my glee might many men have laughed,
And of my weeping something had been left,
Which must die now. I mean the truth untold,
The pity of war, the pity war distilled…
"I am the enemy you killed, my friend.
I knew you in this dark: for so you frowned
Yesterday through me as you jabbed and killed.
I parried; but my hands were loath and cold.
Let us sleep now. . . ."
100 years ago a young man called Jack Harris lay cold in the ground, one man amongst thousands gunned down going over the top on a muddy field on 26 September at the battle of Loos a few miles inland from Calais.
His stepfather, Mr Benjamin Freemen would have just received a telegram which said that Jack was missing.
It would be another 6 months on February 22nd, before the British Red Cross would write to let the family know that Jack had probably been killed in action. His body was never found, but probably buried in one of the cemeteries near the battlefield, his name engraved on a plaque at the cemetery at Dud Corner
Jack, or John, as he had been christened, had joined up in Manchester and was an experienced soldier, having served in India. He was a professional soldier, and had another two years to serve enforce being released back into civilian life. He had had a successful army career, being promoted to Lance Corporal.
His is one story among millions; 17 million military personnel and civilians died and 20 million were wounded. The first world war was one of the more bloodier conflict in our history. Since then men and women have continued to die serving in the armed forces of our country when called upon to do so by our politicians.
WW2 383, 667
Palestine 1922- 1948 233
Malaya 1948 – 60 340
Yangtze River incident 1949 46
Korean War 1950 – 1953 765
The Canal zone emergency,
Egypt 1951 – 1953 54
Kenya 1952 – 1960 12
Cyprus 1955- 1959 22
Oman and Dhofar 1962 – 1975 24
Borneo 1962 – 1966 126
Aden Emergency 1953 – 1967 68
Northern Ireland 1969 – 1998 763
Falkland Islands 1992 255
Gulf War 1 1990 – 91 47
The Balkans 1990 – 2001 48
Sierra Leone 2000 1
Afghanistan 2001 – present 385
Iraq 2003 – 2009 179
And many more have been injured and disabled. When it comes to war, comparisons are futile. For those injured, killed or bereaved the loss of a loved one is immeasurable in terms of suffering and it affects all of us, regardless of our age. A few years ago, in a primary school assembly, I asked the children to say what they wanted to pray for….one of the youngest children in the school said
' for my older brother, in Afghanistan. We love him and want him to come home'
Every year since I was a child, I have watched remembrance service on television, and attended them in church. We were a forces family, and all too conscious of the risks that our fathers and uncles and brothers and friends took as they attempted to defend our country and to keep the peace in troubled areas of the world. Today it is our women too.
What we are not here to do is to rejoice in victory, or to glorify war. We are not here, despite at he suggestiveness of a recent video by the British Legion showing a child wearing a yellow t shirt with the logo 'future soldier' to recruit the soldiers and sailors and air crew of the future. In spite of the rousing choruses, and the steady beats of the marching bands, intended to console and encourage, there is no glory in sending fit young men and women into the theatre of war to be gunned down by other young people across the other side of the line.
In recent years, the steady procession of hearses carrying the bodies of soldiers killed in Afghanistan, are all the evidence we need to see that that there is no honour in wearing a victor's crown when the cost is so great; and that for too many people, death, not life is the outcome of war.
So why do we remember, why do we keep anniversaries of these terrible conflicts which exact such a terrible toll?
Firstly, our human frailty, which seems so often to want to dominate and destroy, and which too often stands in the way of respectful resolution of differences, requires that we remind ourselves, and one another that too often human beings settle for solutions to conflict which bring pain and suffering to others.
And we should never doubt that the suffering is immense. I have taken many funeral services for people who served in the second world war and a common theme throughout has been their silence of the horrors that they experienced. Not until the later years of their lives have these men found it possible to talk about their experience of armed conflict. Instead they have tried to live with the horror of their experiences the best way they can.
Squadron leader Tony Pickering, hurricane pilot, who survived the battle of Britain has said " I don't like to think about the horrors of war – that's over now' lets look to the future.'
The second reason for remembering is that though the re – membering, the literally putting back together of the events of the many wars that we have been involved in, we will be inspired to dedicate ourselves to the collective responsibility we have as citizens, to work for peace, and justice, so that all people may live in hope of the opportunity to live life in the way that has been ordained for them by God.
And the third reason, is that of reconciliation. The Gospel of Christ has at its heart a message of hope through repentance, forgiveness and reconciliation, and a tradition of remembrance that is intended to form us as people who live this way of being in the world. .
We have heard this morning in our readings, that God, is a loving God, whose will for us is that we should have life, and life in all its fullness. Gods love is not that of a conquering hero but that of one who is willing to lay down his life for his friends – Christs love for us was so great, and so complete, that he gave everything in order that we might recognise in one another, our common humanity and know our identity as children of God.
That kind of love is not a victory march – to steal a phrase from Leonard Cohen – rather, its a cold and its a broken hallelujah.
St Paul, in his own inimitable style puts the whole thing another way….in his letter to the corinthians, talking of the human behaviours required of those who love, he says
These three things, faith hope and love remain, and the greatest of these is love.
The annual act of remembrance is not and never should be a celebration of military might, of the power of the sword, instead, I believe from my own experiences of being a member of a forces family that it is a recognition of the fallibility of human beings, and of war as an outcome of human failure; its an acknowledgment of the suffering of those are tasked with the practicalities of keeping us safe and working for peace. Its a commemoration of people like Jack Harris who lost their lives and whose bodies lie in graves marked, not with a name but with the words, 'known unto God', because their country demanded it of them, or their jobs took them into places of such terrible danger, and its a rededication of ourselves to do what is required, despite the cost, to bring life and hope and peace, in the love of Christ,rather than the power of the sword, to this world which we have broken with our lack of love.
And so in this spirit, let us remember with thanksgiving and sorrow those whose lives have been taken through fighting and terror, all who suffer breavement, disablement.
Let us commit ourselves young and old to work in penitence and faith for reconcilation
so that under God every person in our troubled and broken world may live in peace with one another, and every person have the hope of a tomorrow.
Jesus said, this is my commandment, love one another as I have loved you….you are my friends if you do what I have asked you.
Psalm 62
5  Wait on God alone in stillness, O my soul; •
for in him is my hope.
6  He alone is my rock and my salvation, •
my stronghold, so that I shall not be shaken.
7  In God is my strength and my glory; •
God is my strong rock; in him is my refuge.
8  Put your trust in him always, my people; •
pour out your hearts before him, for God is our refuge.
9  The peoples are but a breath,
the whole human race a deceit; •
on the scales they are altogether lighter than air.
10  Put no trust in oppression; in robbery take no empty pride; •
though wealth increase, set not your heart upon it.
11  God spoke once, and twice have I heard the same, •
that power belongs to God.
12  Steadfast love belongs to you, O Lord, •
for you repay everyone according to their deeds.
Amen